April 2020: Writing, Reading & Recipes
Welcome to my first author newsletter!
Dear friends,
Welcome to the first issue of my once-a-month author newsletter; especially now, I hope to bring some light into your inbox with book recommendations, a story or poem, literary musings, recipes and more.
I hope you are staying well as best as you can now, and I'm especially grateful to healthcare workers and those in the food supply chain.
Quick writing update: Like many writers, I've struggled in these last few weeks to get words down on paper, but lately I've been setting small goals for myself. Write/edit 300 words a day! Try to do it first thing in the morning (before checking email, whatsapps, or news)! I'm not succeeding every day, but I do feel better on the ones that I do. I hope that you, too, are finding the time and energy to do things to shore yourself up.
Passover recipes: Partly to distract myself and partly because Passover is coming up in a few days, I decided to make a full-fledged Passover recipe book, based solely on the dishes mentioned in The Book of Jeremiah. Many of the recipes came from our family cookbook, and though I've never made cooked carp myself (I'm not a fish person, like, at all), it was fun to put together recipes from my great aunts, which I'm sure my own grandmother used. Feel free to download a copy here.
---
Story/poem of the month:
Kitty O'Meara, a writer based in Wisconsin, penned a beautiful poem, "And the People Stayed Home" and posted it on her Facebook page. Naturally, it's gone viral. (Oprah called her the poet laureate of the pandemic). Read the poem and an interview with the author here, or watch a collective of authors - including yours truly - reading the poem (a 1-minute video).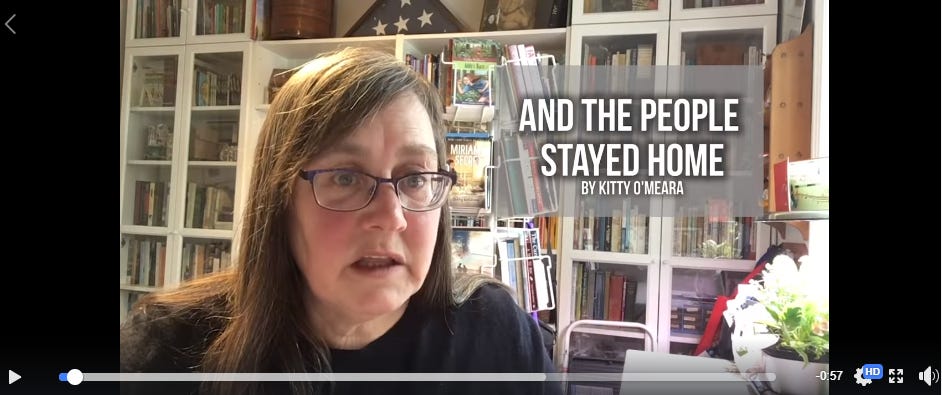 Recommended reading:
We're 3+ months into 2020 and I'm a bit behind on my self-imposed Goodreads challenge to read 60 books this year. Here are a few recent books I've read and loved:
The Murmur of Bees - by Sofia Segovia - Sofia Segovia is a well-known author in Mexico but this is her first book translated into English. The characters, plot, narration were all superb, and I was sad for this one to end. One of the reviews I found on Amazon said it best: "I can't think of how else to say it. It was like taking a spring swim in a lake of soft beautiful words." P.S. I highly recommend the audiobook version - both narrators were outstanding!
The Dutch House - by Ann Patchett - This was my favorite Ann Patchett book to date. From the start, the brother-sister pair of Danny and Maeve captured my attention. Despite living in a home that might look like a mansion or a museum from the outside, life on the interior is far from kind to the siblings. I loved the bond between Danny and Maeve, and their ability to care for each other with compassion as they travel through life.
Girl, Woman, Other - by Bernardine Evaristo - Bernardine Evaristo made history last year when she became the first black woman to win the prestigious Booker Prize. My local book club selected Girl, Woman, Other as our February read, and I read the whole thing in a day. It features 12 (mostly) black British women and one non-binary character, varied in age, class and sexuality. The writing was fresh, eye-opening, and the book made for a great discussion.
Keeping literature alive in the time of COVID-19:
Obviously, the pandemic is bigger than book launches and tours, and I'm worried about people in every industry who are losing their livelihoods or worse, but my heart especially goes out to authors who, having toiled on their books for years, have had to cancel their launch celebrations and events. Thankfully, the literary world is ablaze with efforts to help these authors and independent bookstores and publishers. There are dozens of virtual events, most stores/presses are taking orders online, and I encourage you to support the literary world in any way you can. Take a look at my first YouTube video to spotlight some new releases, and I'm planning to do more.
Monthly writing prompt:
Write a story or a poem about someone who is definitely not you, but who does something (a career, a hobby, takes a trip) that you're interested in. (This was the prompt that got me started on The Book of Jeremiah! The first story I wrote for the collection was MixMaster, in which Jeremiah is 82 years old and takes up baking). If you're interested, check out this blog post I wrote last year for The Quivering Pen about my love of prompts and the origins of The Book of Jeremiah.
Upcoming events:
Hidden Timber Books is hosting a series of free online author readings. I attended a spectacular poetry reading by Erika Dreifus last night, and I'll be doing my own on May 3 (the one year anniversary of The Book of Jeremiah :-) at 9 am Central / 10 am Eastern / 5 pm Israel time. I'd love to see you there! Register here to get the Zoom link.
I'm also speaking with a New York-based Hadassah book club on April 20, and I've got a few more virtual meetings in May. If you're in a book club, please consider The Book of Jeremiah for a future selection. (Press 53 is happy to give discounts to book clubs)!
Stay well, happy Passover or Easter to those who are celebrating, and see you next month!
---
Thanks for reading! Please consider subscribing to this monthly update by clicking the button below. This post is also publicly accessible, so feel free to share!
---
Julie Zuckerman's debut novel-in-stories, The Book of Jeremiah, was published in May 2019 by Press 53. Her fiction and non-fiction have appeared in Tikkun, Jewish Women's Archives, Crab Orchard Review, The Coil, The SFWP Quarterly, Ellipsis, MoonPark Review, Sixfold, and The MacGuffin, among others. A native of Connecticut, she now lives in Israel with her husband and four children. www.juliezuckerman.com