June 2020: Zucchini flowers, new reviews & trusting the writing process
Writing, reading, recommendations & recipes
Dear friends,
By now June is bustin' out all over (to quote Rodgers and Hammerstein's Carousel). I hope you are healthy and finding ways to venture back out into the world, whether to see loved ones and resume some normal activities, or to make your voice heard for justice. Read on for book recommendations, reviews, a story of the month, a writing prompt, a recipe and more.
Quick writing update: I'm working on two stories at the moment, though progress is (still) slow-going. On one, I'd written about 6,300 words before concluding the story needs to go in a new direction, so now I've started a new file, using some of the same sentences and characters, but most likely I'll be discarding the vast majority of those words. But it's all part of the process, and I trust in the process.
A few happy notes:
---
Recommended reading
I'm at 29 books for the year, three ahead of schedule according to Goodreads. I seem to be reading a lot of memoirs and non-fiction lately. Here are two memoirs and one novel I highly recommend, all of which are good for book club discussions.
Moby-Dick update: I'm making progress, up to about page 315 (~65%), and I hope to finish before Melville's birthday in July. I'll admit the chapters on whale physiology don't interest me all that much, but even so, I'm finding many sentences and thoughts that are gems.
Story/poem of the month
Jellyfish in Gaza: I was perusing The Baltimore Review website, and naturally the title caught my eye. It's a powerful story by Omer Friedlander, and I was pleased to become acquainted with the work of this (new to me) Israeli writer.
Events
Monthly writing prompt
Take any two pictures with people in them. These could be personal photos or any picture you find on the Internet. Write a scene in which a person from the first picture interacts with a person from the second picture.
Recipe: Oatmeal Raisin Cookies
Welcome to the end of the newsletter, where you are rewarded with a yummy recipe. In my aforementioned 6,300-word work-in-progress, the main character is making oatmeal raisin cookies. Whether this will end up in the final version of the story, I have no idea, but here's her (my) recipe (with thanks to The Kosher Palette):
1 cup raisins
3/4 cup butter
1 cup brown sugar
1/2 cup white sugar
1 large egg
2 TBSP water
1 tsp vanilla
2/3 cup all-purpose flour
1 tsp cinnamon
1/2 tsp salt
1/2 tsp baking soda
3 cups quick oats
6 ounces chocolate chips
Directions:
Soak raisins in water to cover in a small bowl. Let stand 10 minutes, then drain. Beat the butter at a medium speed until fluffy, gradually add sugars, beating well. Add egg, water, and vanilla, beating until well blended. Add the flour, cinnamon, salt and baking soda to the mixture, and then fold the oats, chocolate chips and raisins into the batter. Use a teaspoon to place cookies onto the baking sheets. Bake for 10 minutes at 375 F / 185 C until the edges are lightly browned. These are a bit dense but very yummy!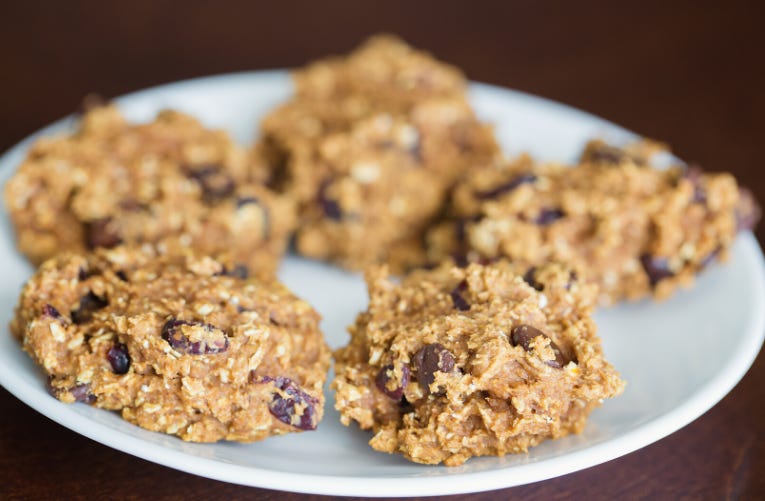 ---
See you next month with more book recommendations, writing tips, recipes & more!
PS If you've read (and liked) The Book of Jeremiah, please leave a brief review on Amazon or wherever you purchase books online. Thank you!
Julie Zuckerman's debut novel-in-stories, The Book of Jeremiah, was published in May 2019 by Press 53. Her fiction and non-fiction have appeared in Tikkun, Jewish Women's Archives, Crab Orchard Review, The Coil, The SFWP Quarterly, Ellipsis, MoonPark Review, Sixfold, and The MacGuffin, among others. A native of Connecticut, she now lives in Israel with her husband and four children. www.juliezuckerman.com